Online consultation
Online psychologist
Get consulted with a psychologist even in the most remote corners of the country and abroad. We provide quality medical services. Fast. Convenient. Effective.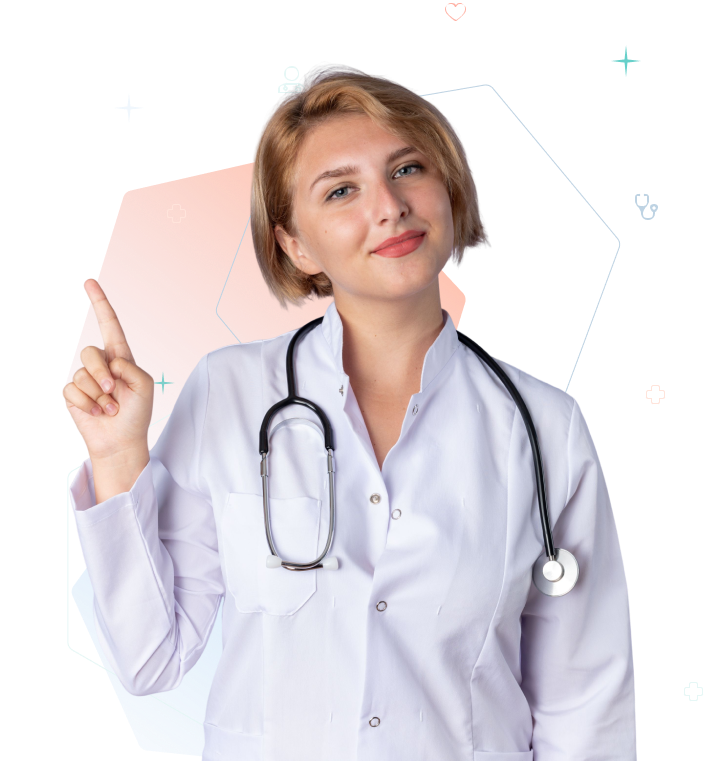 Online consultation is a complete alternative to in-person visits
The doctor will provide an accurate evaluation of your condition and develop an appropriate strategy to address the issue
Practicing doctors with experience in online consultations
Easy-to-use app to schedule an appointment with a psychologist
When should you reach out for an appointment with a psychologist?
You can make an appointment for an online consultation with a psychologist at any time if you feel that you need support or help. If you:
You have experienced a traumatic event or physical, sexual, or psychological violence;
You have gone through the loss of a loved one;
You have everything because of war, forced to leave your city or country, and are losing your sense of stability;
You are a combatant with post-traumatic stress disorder (PTSD) who wishes to live a normal life;
You are a family member of a combatant who served, returned with PTSD, or died, and you don't know what to do;
You have symptoms of anxiety, constant stress, fears, and phobias;
You experience difficulties controlling emotions, emotional instability, constant crying, or feeling down;
You experience difficulties in relationships with others, family problems or conflicts, going through or planning a divorce;
You have addictions and disorders of any nature: eating disorders, gambling, relationship dependency.
What a psychologist can help with
ADULTS:
Crisis states
Grief counseling
Post-traumatic stress disorder (PTSD)
Relationship improvement
Male-female relationships
Parent-child relationships
Various types of addictions
Eating disorders
Gambling addiction
Relationship dependency
Emotional problems
Apathy
Depression
Stress
Fear
Anxiety
Prevention therapy
Emotional burnout prevention
Secondary traumatization prevention
CHILDREN:
Emotional disorders
Excessive shyness
Lack of confidence
Infantilism
Anxiety
Behavioral disorders
Aggressiveness, inability to self-defend
Sluggishness/hyperactivity
Tendency to lie
Conflict, tantrums
Adaptive difficulties
In a collective/group setting
In a preschool/childcare setting
In school
Psychological traumas
Parental separation/divorce
Change of residence
Death of a family member
Birth of another child, etc.
Additionally
Diagnosis of a child's social-psychological readiness for school
Development of a plan for correcting undesirable behavior
Online consultation is particularly advantageous for the following individuals:
Those who have poor mental well-being and want to take action right away.
1
Those who desire to receive quality medical help and have a chance for a normal life.
2
Those who value their time and don't want to spend it on traveling to the hospital and waiting in queues.
3
Those who have moved away from their home country or town and are seeking support among his own.
4
Cost of online consultation with a psychologist
"Single Visit"
includes:
Online consultation for one person
Full equivalent of offline therapy
Analysis of the situation and assistance in finding solutions
Duration: 60 minutes
«Family 6»
includes:
Online consultations with a psychologist at a time convenient for you
Unlimited number of online consultations with a family doctor
Unlimited number of online consultations with therapists
Connect one phone number to get consultations for up to 5 individuals
Validity period: 6 months
«Family 12»
includes:
Online consultations with a psychologist at a time convenient for you
Unlimited number of online consultations with a family doctor
Unlimited number of online consultations with therapists
Connect one phone number to get consultations for up to 5 individuals
Validity period: 12 months
Why choose DobroDoc+ for an appointment with a psychologist?
Treatment protocols according to the Ministry of Health of Ukraine

Our therapists strictly adhere to evidence-based protocols and the latest research. You can be confident in the appropriateness of prescriptions and diagnosis.

An online consultation with a psychologist provides a comprehensive appointment experience

Medical history collection, symptom discussion, prescription of additional tests and their interpretation. Everything is the same, as if you were on an in-person appointment.

All doctors are full-time professionals with real practical experience

Our psychologists have a constant practical offline experience. We have been providing online medical services since 2017. Asking the right questions, thorough medical history collection, attentiveness to what you are saying, and accurate assessment allow for an effective treatment.
Accurate assessment of health risks and a comprehensive understanding of your condition

If necessary, the psychologist will coordinate a referral to an appropriate expert for a prompt resolution of the problem without wasting valuable time.

Comprehensive approach

We provide simultaneous treatment for both acute and chronic patient conditions. Our body is a holistic system that requires a comprehensive approach on the path to being healthy.

Distance is not a barrier

You will receive medical assistance even in the most remote corners of the country and abroad.

User-friendly application for easily accessing quality medical assistance

Easy-to-use and intuitively understandable medical app that helps you quickly get in touch with a doctor: log in and schedule online appointments with a psychologist
How it works and what you need for online registration with a psychologist:
1
Install the application and log in
2
Fill in your data into the electronic medical record
3
Choose a doctor you require, time, and make an appointment
4
Pre-pay for the online consultation with the psychologist
5
Optionally, complete a brief survey in the chatbot regarding your current condition and upload the results of any tests, if available
6
On the day of the consultation, you will get a reminder about the appointment time
7
Please anticipate an audio or video call from the doctor at the designated time and be ready to receive it through the application
Consultation process
During an audio or video call, the psychologist actively listens to your concerns and inquiries in order to accurately evaluate your psychological condition
1
The doctor will identify the causes of your concerns and provide a clear explanation of what is happening with your body.
2
If necessary, the doctor will provide recommendations for further consultation and treatment with other specialists.
3
The psychologist will give recommendations regarding the regimen, completing homework assignments, and working through the issue.
4
The doctor will provide you with a conclusion in the app.
5
How to prepare for the appointment?
Log in to the application and make sure to be online at the scheduled time.
That's it! You're ready for the consultation!
Log in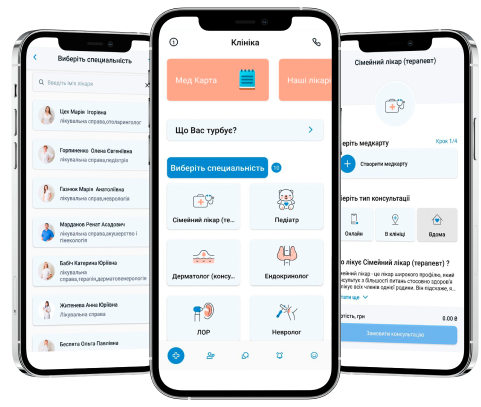 Our full-time psychologists
Degtyareva

Olena Mykolaivna

Yukhymchuk

Anastasiia Vasylivna
Very polite service. The doctors have thoroughly examined my condition and helped in treatment.

Fantastic doctor. Attentive and real professional. European doctors should learn from ours!!!

Thank you for the session. I received answers to my inquiries. Now I understand where to go next!

The doctor was very attentive. She listened and analyzed the available research, as well as provided a lot of information related to my case. Thank you for your attention!

A very pleasant doctor. Thank you for detailed treatment recommendations for my child!

Thank you, doctor! You provided me with necessary recommendations, everything was very clear. We will go for the treatment you prescribed.

The doctor provided a quick and quality consultation, as well as prescribed medication and a treatment plan. Thank you!

Thank you for your assistance! You are an excellent specialist!

The session was quite informative, the doctor was quick in response and was caring! Grateful for your help.

"I would like to say thank you to Doctor Bohdan Lyudmyla Oleksandrivna for her high qualification, empathy, and understanding. I am so grateful for quickly addressing my issue and providing an accurate diagnosis. The prescribed treatment has led to positive results. Thank you sincerely for the feedback, support, and assistance."

Professional doctors. Highly recommended!!

What a talented doctor! Everything is clear and organized!

The doctor described the steps clearly and accurately. Excellent doctor. She is really attentive and professional. Thank you for the consultation!